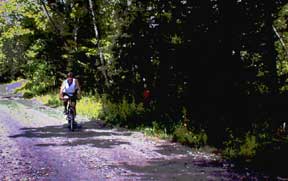 Natalie biking on the dirt roads.

Natalie hiking in the Quirang on the Isle of Skye in Scotland.
Tom and I have fulfilled a live-long dream by taking my family on a trip to the Isle of Skye in Scotland.
The Northeast Kingdom of Vermont, where I live, is a hard place to make a living, but a wonderful place to live. My husband, Tom, and I have worked many years building our timber-frame house in these hills. We make syrup from our maple trees each spring, and we've planted an orchard of old apple varieties. We enjoy many sports together on the dirt roads and trails here. I am an athlete, naturalist, artist and writer. I run five to ten miles each morning, cross-country ski, mountain bike, roller blade, swim, windsurf, kayak and canoe, rock climb, and play tennis. I am an outdoorswoman, enjoying hiking astronomy, bird watching, and creating watercolor and pastel paintings of wildflowers, birds, and landscapes. I love animals and have rescued most of my pets: three horses, six cats and six dogs. I love history, especially of the Civil War. I play the bagpipes and am a member of the Catamount Pipe Band.